The Family of
Seymour B. Young Sr.
Last Updated 14 May 2006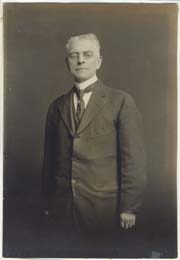 3 Oct. 1837 – 15 Dec. 1924
Seymour Bicknell Young Sr. was born October 3, 1837, in Kirtland, Ohio, to Joseph and Jane Bicknell Young, early converts to The Church of Jesus Christ of Latter-day Saints. His father helped lead the exodus of the Saints from Kirtland, and Seymour was a baby in his mother's arms during the massacre at Haun's Mill. Seymour grew up in Nauvoo and Iowa, coming to Utah Territory with his family in 1850 at the age of 14. In 1857 he crossed the plains in an eastbound handcart company and served a mission without purse or scrip in England. In 1862, during the Civil War, he served in a Utah regiment of the Union army assigned to protect telegraph lines. In 1866 he served in the Blackhawk War. Seymour married Ann Elizabeth Riter in 1867, with whom he eventually had 12 children. He worked under his cousin Brigham Young Jr. on a contract to provide ties and bridge timber for transcontinental railroad, and a year later did contract work for the Utah Central railroad. In 1870 Seymour accompanied his father on another mission to Great Britain, and the next year he took up the study of medicine in New York, returning to Utah in 1874. Here he had a private practice and was also the city physician in Salt Lake City and ran the insane asylum. From 1875 to 1877 he was his uncle Brigham Young's personal physician. He was called to the Presidency of the Seventy in 1882 and served as its Senior President from 1893 until 1924. He took a second wife, Abby Corilla Wells, in 1884 and had one child with her. Seymour died on December 15, 1924.
Photo
Needed
Ann Elizabeth Riter
b. 3 Jun 1847
m. 14 April 1867
d. 19 Jun 1926
Abby Corilla Wells
b. 20 Sep 1852
m. 28 April 1884
d. 25 Sep 1930
Call to Family Members
Please share your histories and photos. Our goal is to gather transcripts and high-resolution scans on Seymour, his wives, all their children, and all their spouses, and make them available to all family members. Contact Benson Young Parkinson, webmaster, at "feedback at parkinsonfamily.org" (replace "at" with "@").
Learn more about the Seymour B. Young Sr. family
What's New Since the Last Update
Added obituraries (14 May 2006)
Added marriage information for kids (19 Mar 2005)
Launched page (12 Feb 2005)
Contact
Contact Benson Young Parkinson, webmaster, at "feedback at parkinsonfamily.org" (replace "at" with "@").